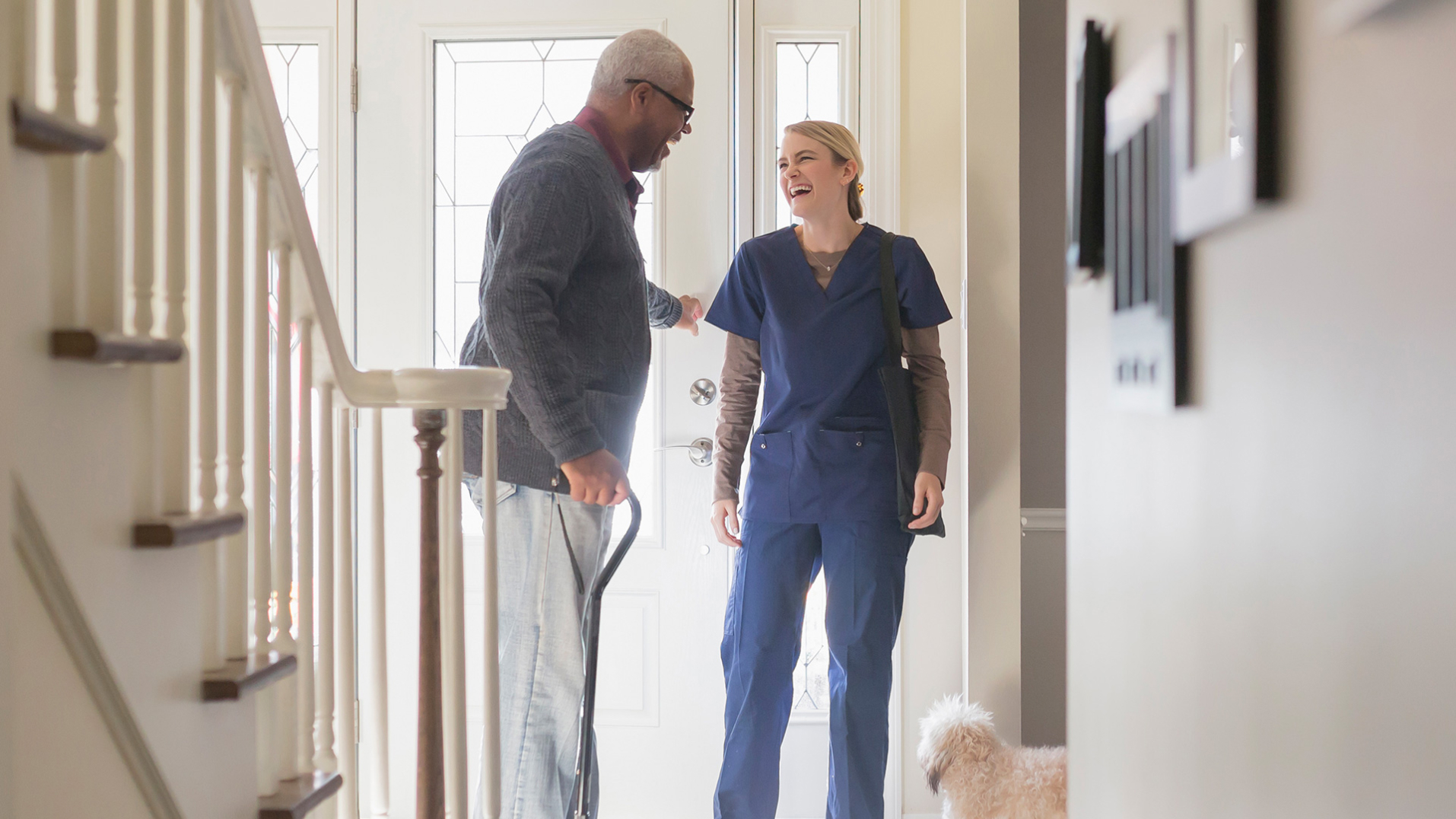 Home Health
Part of caring for someone is understanding them and taking the time to find out what's most important to them. Our clinicians help you learn to manage your condition and maintain your independence by surrounding you with the care and support you need to gain the confidence to get back to doing the things you love.
Conditions we can help with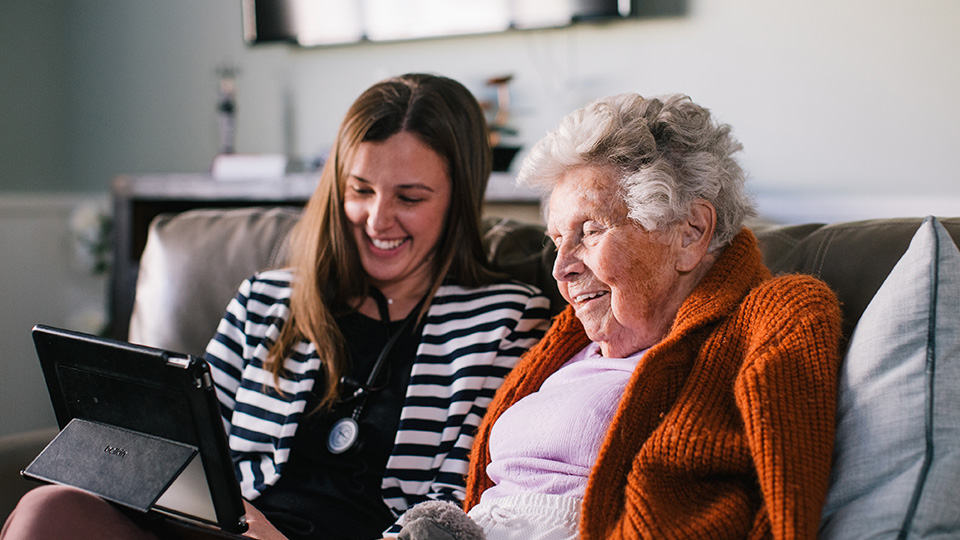 Is home health right for you?
If you or a loved one has a health condition that makes leaving home a challenge, our clinicians can come to you. Whether you have a chronic condition or you're recovering from injury or surgery, we will work with your physician to develop a plan of care that helps you manage your condition and meet your individual health goals. For people over 65 who qualify, home health care may be available at no cost though Medicare or other insurance.
Members of the Kindred at Home Family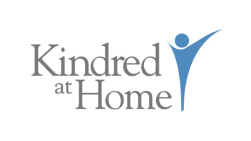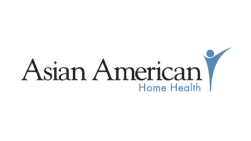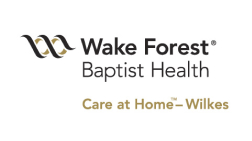 Every patient's needs are different. We have the right team to help you.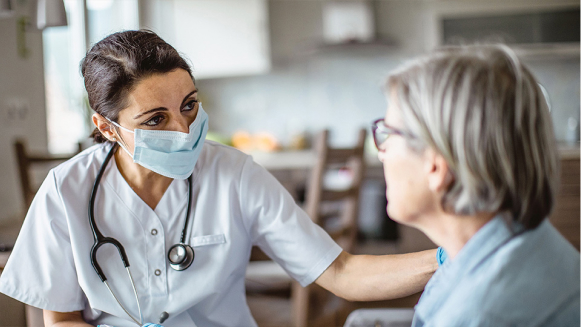 Nurses
Our skilled nurses coordinate your plan of care, treat your condition, monitor your progress and help you gain the skills you need to thrive on your own, including managing your medications, knowing how food and activity affect your wellbeing, and recognizing early signs of potential health issues.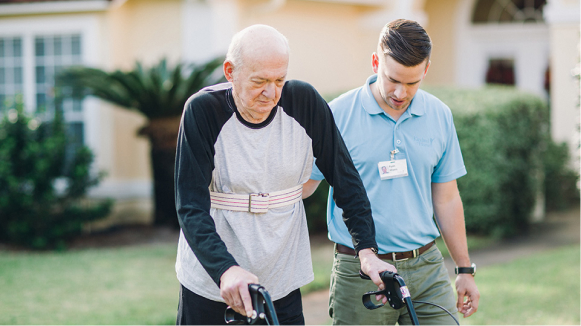 Physical therapists
Our physical therapists help you regain your mobility in the comfort of your home, so you can learn to move around safely in your real-world environment. By developing a program that meets your needs and keeps you active, we can help get you back to doing the things you love.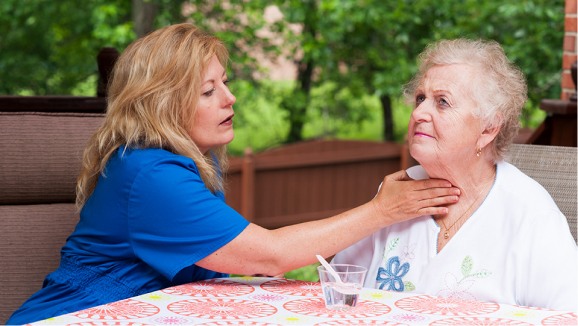 Speech and language pathologists
Our speech therapists help people with speech, language and communication disorders, including difficulty with chewing, swallowing and thinking skills.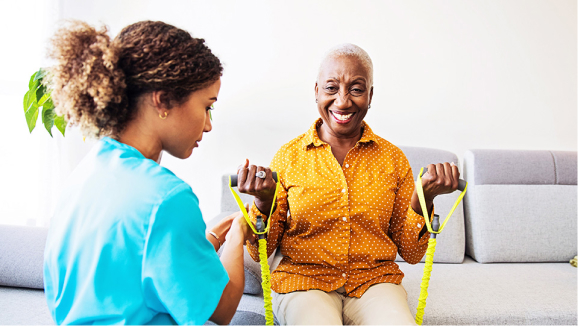 Occupational therapists
Our occupational therapists can help people discover simple solutions for everyday activities, such as getting dressed, showering or preparing a meal, so they can live safely and independently in their own homes.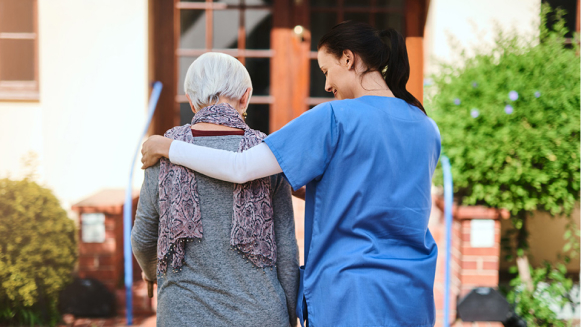 Home health aides
Our compassionate, dependable home health aides help make the daily activities of life, such as bathing and dressing, a little easier.
Social workers
Our social workers can help you overcome some of the things that can get in the way of your recovery from illness or injury, including helping you access financial assistance, providing counseling and connecting you to helpful community resources.
Specialized care for better results
Keeping Hearts at Home is a multidisciplinary approach to heart and lung care that does more than address exacerbations and post-acute care. We meet you where you are and show you how to make manageable adjustments in areas such as nutrition and mobility that can have long-term effects on your overall health.
We specialize in helping you manage heart- and lung-related conditions such as heart failure, chronic obstructive pulmonary disease (COPD), cardiac bypass surgery, heart attack, hypertension and pneumonia.
Our cardiopulmonary program builds on our existing cardiac services and places added focus on the management of symptoms for heart- and lung-related conditions such as heart failure, chronic obstructive pulmonary disease, cardiac bypass surgery, heart attack, hypertension and pneumonia.
Our clinicians use a portable, noninvasive monitoring technology called MyNICaS™ that gives clinicians a clear picture of your cardiovascular health. Using this technology, we can identify heart and blood flow fluctuations up to two weeks before you might typically start to notice a change in how you feel. This means we can proactively track, monitor and adjust treatment to avoid exacerbations and reduce unnecessary trips to the emergency room. As you begin to see how your heart and circulation respond to treatment, it encourages you to adopt behaviors that lead to long-term health. This can include things as simple as eating a healthy diet and taking the proper medication. It's a powerful technology we use to help you take charge of your heart health.
Healing wounds is an essential step in the rehabilitation process for many patients. PRIME Wound Care™ is our comprehensive approach to the prevention, intervention and management of your wounds. Our wound care team will assess your injury, including where you are in the healing process, and develop a plan of care specifically for you.
Unlike traditional balance dysfunction programs, our Safe Strides® program takes a multidisciplinary approach to find and focus on the root of balance issues. Our care teams evaluate your visual acuity as well as your vestibular, somatosensory and musculoskeletal systems to discover and address critical factors contributing to your fall risk.
Our innovative orthopedic program delivers postoperative care for joint replacement and other orthopedic conditions in the comfort and familiar surroundings of your own home. Our multidisciplinary care approach is designed to increase your mobility and help you recover as fast as your treatment allows. In this way, we help you maintain your independence and get you back to doing the things you love sooner.
Our team has designed a specialty program for patients experiencing new or exacerbated neurological conditions. This evidence-based program is built to support your individual needs and health goals, and our therapists collaborate closely with you, your family and your physician to develop the best care treatment plan for you. The most common neurological diagnoses we treat include Parkinson's, multiple sclerosis, cerebral palsy, muscular dystrophy, neuromuscular disorders and Guillain-Barre syndrome.
Through our Low Vision program, clinicians help you maximize the use of your existing vision to improve your quality of life and avoid functional complications, including falls and unplanned visits to the hospital.
Our specially trained clinicians and social workers understand the unique needs of people with Alzheimer's and dementia and ensure every person they care for is treated with dignity. It is a core part of our commitment to providing the highest-quality compassionate care for the people we serve. Our memory care program specifically focuses on educating and supporting caregivers to ensure ongoing success.
Through Zōntago®, our clinicians formulate structured, progressive activities that help you improve your capacity and ability to be active. We'll tailor your program to your individual interests and help you reach your personal goals.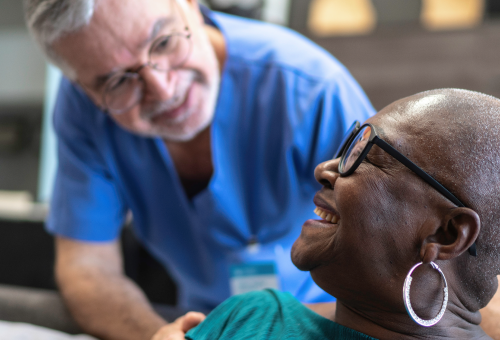 Need help deciding if home health care is right for you or your loved one?

Take our quick home health care assessment.
Are you interested in care for yourself or for a loved one?
Do any of the following describe
your loved one?
you?
Select all that apply.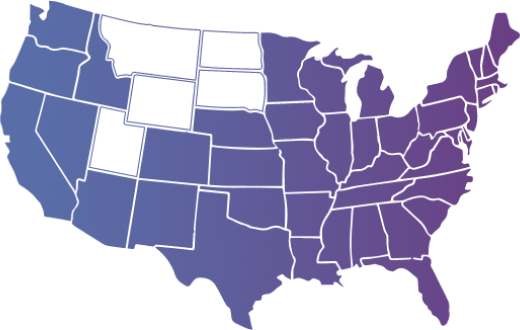 We serve people in more than 350 locations across 38 states.
Where
does your loved one

do you

live?
Great News!

Your loved one
You
might be outside our service area, but we may still be able to help!
is

're

in our service area! Call to speak to a nurse about how to get started with in-home care.

Please call to speak to one of our nurses about your needs.
1-866-CARE-KAH
In addition to calling, you can learn more from our free home health care planning guide. Would you like a copy?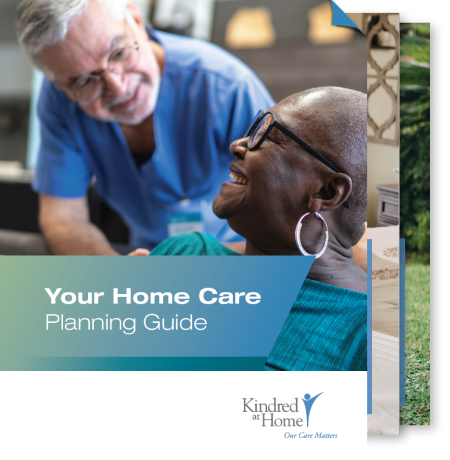 When I was able to go home, Kindred at Home was there. And I didn't have to worry about anything. And that made me feel better.
— Rita L., Community Care Patient
Sometimes, when you're going through a struggle, the mental stress is worse than the physical stress. Kindred at Home helps. You can actually sit and talk to them, and they will really listen to you. They listen to everything you say.
— Linda A., Home Health Patient
Knowing that they're professionals and that this is their job, that gives you confidence that they're going to be able to take care of you. I have been a nurse for 39 years. I have seen things in a lot of different situations, and I can say that Kindred at Home really cares about their patients and the quality of care that they give.
— Nancy W., Home Health Patient
If you or your loved one has been referred to home health
We'll schedule an in-home assessment to determine your eligibility within 48 hours. If you're eligible, we'll develop a care plan with you, your caregiver and your physician to ensure your needs and goals are met. If we're unable to provide home health care services, we'll help you identify alternative community-based resources.
If you or your loved one is considering if home health is right for you
Contact us at 1-866-CARE-KAH (1-866-227-3524) and talk with a Kindred at Home nurse to help us better understand your needs. We'll then reach out to your physician within 24 hours for more information, and if we can provide appropriate home health care services that meet your needs, we'll schedule an in-home assessment within 48 hours to determine your eligibility.
If you're eligible, we'll develop a care plan with you, your caregiver and your doctor to make sure your needs and goals are met. If we're unable to provide home health care services, we'll help you identify alternative community-based resources.
Frequently asked questions
Home health may be covered 100% by Medicare for those who qualify, and we accept most forms of insurance. Part of the admission process includes verification of insurance. Our team is happy to help answer your financial and insurance questions. You can contact us here.
Yes. If you or a loved one is interested in receiving home health care services, speak with your primary care physician, nurse practitioner or other health care provider. You can also talk to one of our nurses 24/7 at 1-866-CARE-KAH (1-866-227-3524) to find out if home health might be right for you.
Yes, we do. We'll work closely with your physician or other authorized practitioner to develop and strictly follow your plan of care.
Ask us about care
Have questions about care, or ready to start care? Talk to a nurse at your convenience.