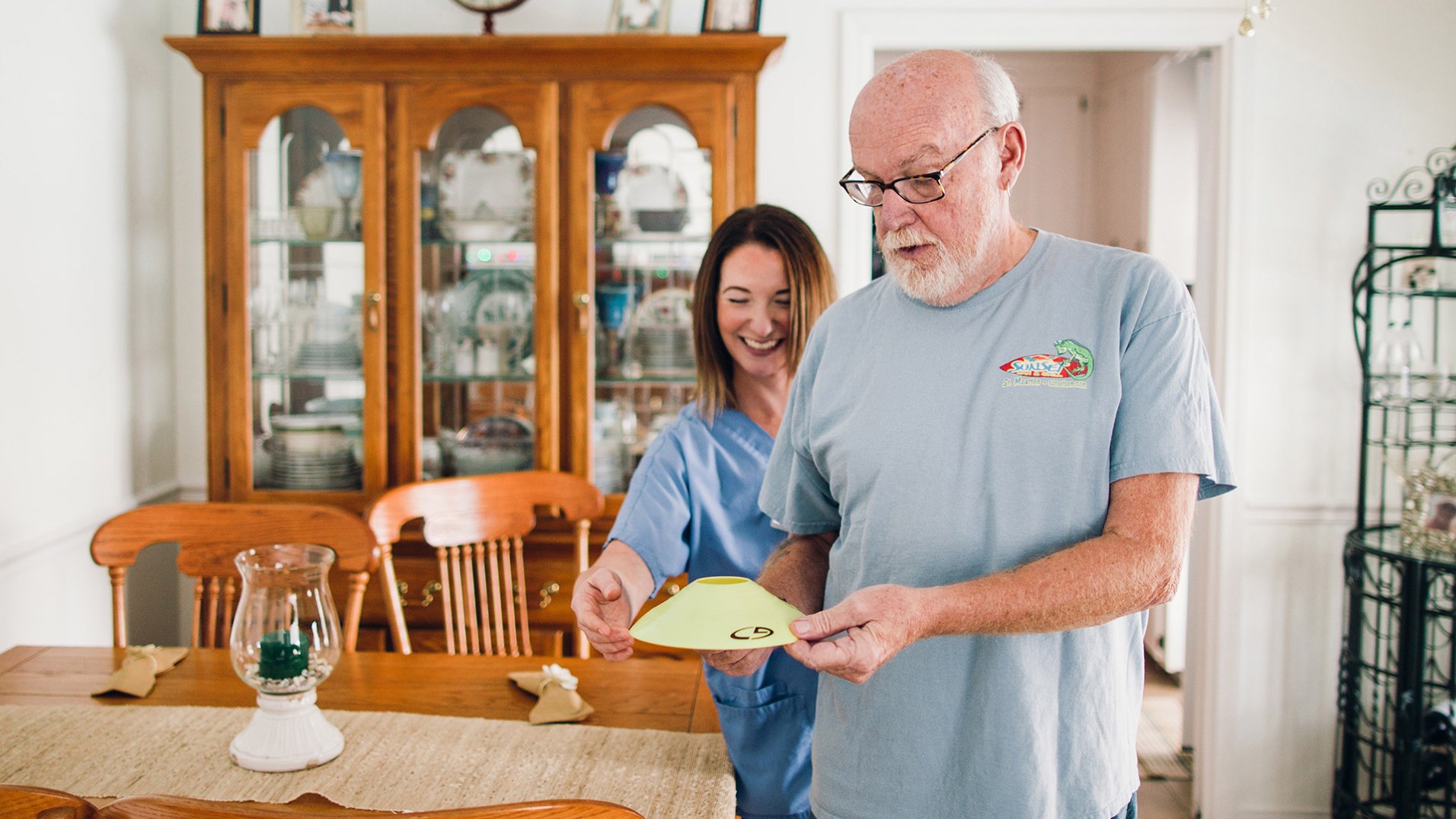 Therapy
For our physical, occupational and speech therapists, nothing is more gratifying than helping someone who has been limited by injury or illness get back to doing the things they love.
See therapy jobs
Empowering patients toward an active, engaged life
When we see a patient take their first steps after a long recovery or hear a smile return to their voice after a difficult experience, we understand why our therapists describe what they do as "an honor." If you're interested in making a meaningful difference in someone's life, we invite you to contact us and explore our job listings.
We recognize and reward great work
Our associates are some of the most talented people in the industry. It's because of them that we're consistently regarded as one of the most respected providers of in-home care in the nation. We ensure every associate knows that the vital work they do can and does change people's lives, and we celebrate our associates for their impact on patient care, their performance in their roles and their commitment to living up to our shared values in everything they do.
We support career growth
Our associates are passionate about what they do and are always looking for ways to do it better. We provide training programs and professional development to help them earn new credentials and grow their skills. We also offer an extensive suite of management programs and leadership development resources designed to help all associates pursue their ambitions.
We provide competitive benefits
Our associates receive a comprehensive package including competitive pay, a 401(k), an Employee Assistance Program, Healthy Steps Wellness, a Centers of Excellence program, health care plans, educational assistance and flexible schedules.
Leigh's story
As a physical therapist for Kindred at Home, Leigh appreciates the physical and emotional benefits of patients being treated in their real-world environments. To her patients, Leigh is not just a great therapist — she's also a good friend.
It's very gratifying to be able to help somebody when they're in need and to be able to get them back on their feet. It's definitely fulfilling because you get to feel accomplished that you're doing what you set out to do: to help these people. Sometimes you see them again years later, and it's really good to see that you affected them in a way that they remember and that they appreciate.
— Veronica M., Physical Therapist
Confucius said, "Choose a job you love, and you will never have to work a day in your life." I truly feel that way with Kindred at Home. My team is supportive and communicates well with each other. I have been with Kindred at Home for seven years now and hope to one day retire with them!
— Brandon W., PTA
There are many options when it comes to home health care, but what really sets Kindred at Home apart is their passion for their employees, which carries through to the patient care. I have had the pleasure of working with Kindred at Home for 10 years and have enjoyed all of the relationships built with fellow staff, patients and their families. The knowledge of the clinical staff transcends traditional patient care, and, in turn, the patients have a quicker rehabilitation time and a better overall experience.
— Suzanne D., DPT
Not ready to apply? Become part of our talent network.
Sign up to become part of our talent community and get the latest job openings as we post them. You'll also get invitations to our virtual events and more.